Compassionfest Haul & Recap
Two Saturdays ago, on December 9th I had the pleasure of attending Compassionfest in Hamden, CT. It was a vegan holiday bazaar that included eco-friendly and vegan gift shopping opportunities, delicious vegan food vendors, speakers, and music. It was a weekend long event but I only went on Saturday. I want to send a huge thank you to The Vegan Potter for notifying me about this event via email, I am so glad that I made the trip to attend. As is typical of me, I went in with every intention of holiday shopping and walked out with multiple gifts for myself.
Throughout the day I got to hear some very interesting speeches and a live podcast put on by The Bearded Vegans. Those two are just too funny. You can stream their podcasts on iTunes, Stitcher & Googleplay. Alternatively you can find all of their 100+ episodes here and listen for free. They post a new episode weekly on Wednesdays. I also enjoyed an educational talk on herbal medicine by Tynne Love and a speech by journalist and human rights activist Karen Stevenson about digital activism. I really felt like I learned something valuable from both.
Without further ado, lets get into what goodies I picked up at the event!
Herbal Diva- Tynne Love
Tynne's speech included a breakdown of some of her favorite herbs and the healing qualities of each individual one. I really resonated with her when she was speaking about Passion Flower. It is known to help calm circular thinking and ease restless leg syndrome. These are two things I struggle with. Often times I will find it very difficult to fall asleep because I cannot stop thinking about the same thing over and over again and this sometimes leads to an outburst of restless leg syndrome. I also get restless leg syndrome in situations where I feel anxious or slightly claustrophobic, for instance when I am on a plane, especially when I do not have the aisle seat. It makes for a very uncomfortable flight. I decided that this flower could really help me so I purchased a tincture and a tea from her. The tea can be used as a preventative method and the tincture can be used for immediate relief (you just take a small sip or put it in water or juice). So far the tincture has really helped me turn off my mind when it is time for rest in a way melitontin or other sleep aids never could. I will definitely be traveling with this tincture for my upcoming flight.
I also picked up this Damn Best Vegan Tattoo butter from her for future use. It is made of all natural organic ingredients from her personal garden. If you are interested in learning more about Clinical Herbalism and you are local to the area, she does offer classes. You can host one in your home if you gather five or more friends. She offers the host a free gift, teaches the class and gives an opportunity for purchases at the end. If you are interested text "Host A Class" to 310-497-4796 or email breatheoutstress@gmail.com. Visit her on Facebook here.
Brewing Good Coffee Co.
The folks over at Brewing Good Coffee Co. were so friendly! I picked up this tote for $15.00. Their coffee is certified as "Bird Friendly." This was something I have never heard of before but they were happy to tell me about it. It is a certification created by the Smithsonian's Mirgratory Bird Center. To put it simply it basically means that the coffee was grown in shade and did not cause any deforestation which is great for the environment and the birds! If you are curious you can learn more about it here.
The Vegan Potter
Lyndsay of The Vegan Potter is seriously such a sweet person! She was so flustered that I traveled across states for the event because of her email. She gave me this small ornament as a free gift and also let me pick out one of her larger painted ornaments as a gift. She also stuffed my bag with her lovely vegan recipe cards. I originally met her at Vegfest Worcester in the spring. If you are in the Providence area you can pick up some of her bowls and mugs from Like No Udder, the vegan ice cream shop on Ives Street.
Another woman who is so incredibly lovely is Cathey over at Om Pajamas. I had the pleasure of meeting her at this event and can tell she has such a kind heart. Om Pajamas is fair-trade and non profit. She creates safe working environments for the females who sew the products and donates profits to Madurai Charitable Trust which you can learn more about here. I love these lightweight harem pants that I picked up! The can be worn low-rise or high waisted because of the drop-crotch. They are so comfy I will definitly be wearing these about and not just to bed! Follow Om Pajamas on Instagram here.
Free Swag
Give and you shall receive, stickers that is! I took this event as a chance to try and network and break out of my internet shell. I handed out stickers for my blog to vendors that I vibed and connected with. It was nerve-wracking putting myself out there but I got nothing but positive feedback from everyone I spoke to. The Bearded Vegans and Brewing Good Coffee Co. were nice enough to give me stickers as well.
Incase You Missed It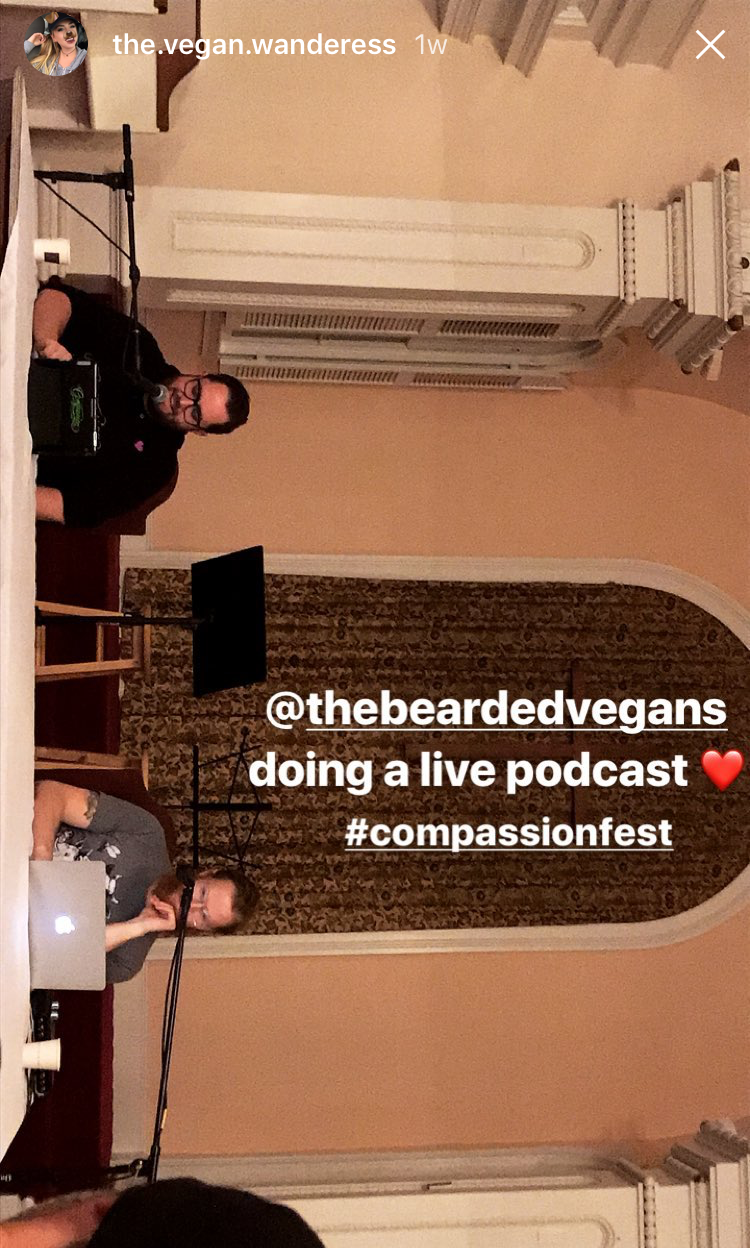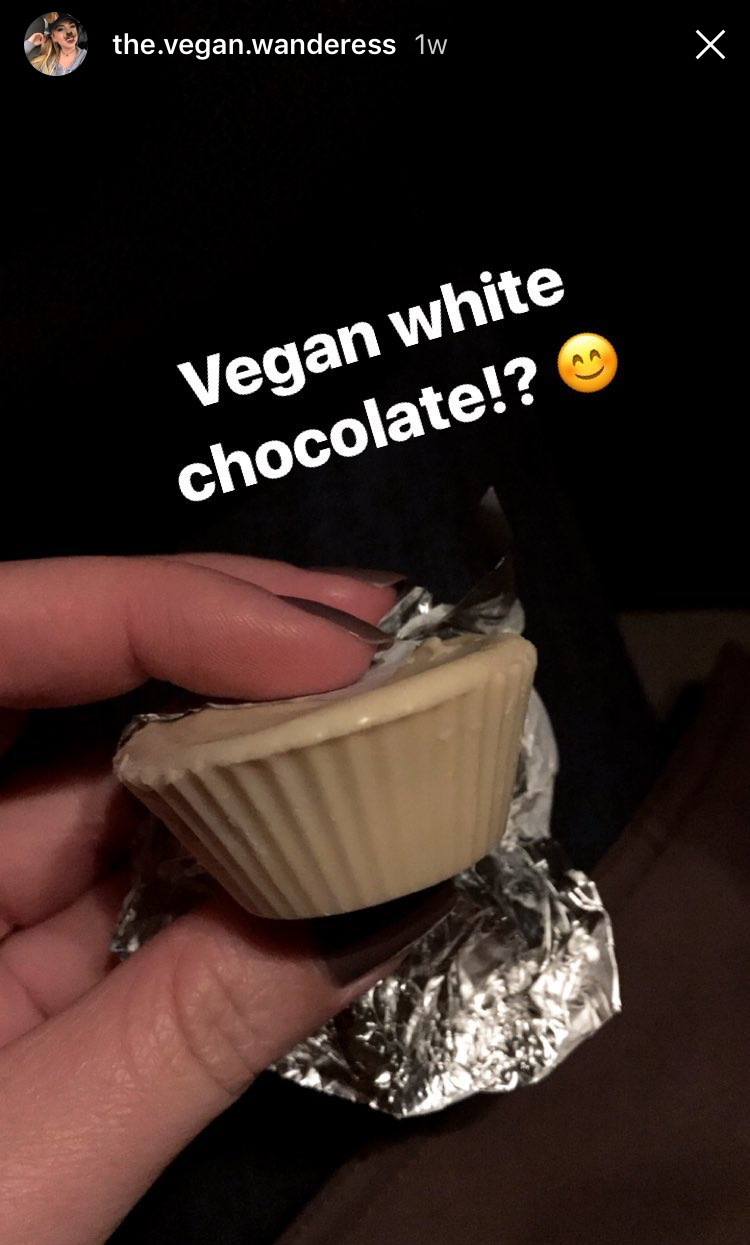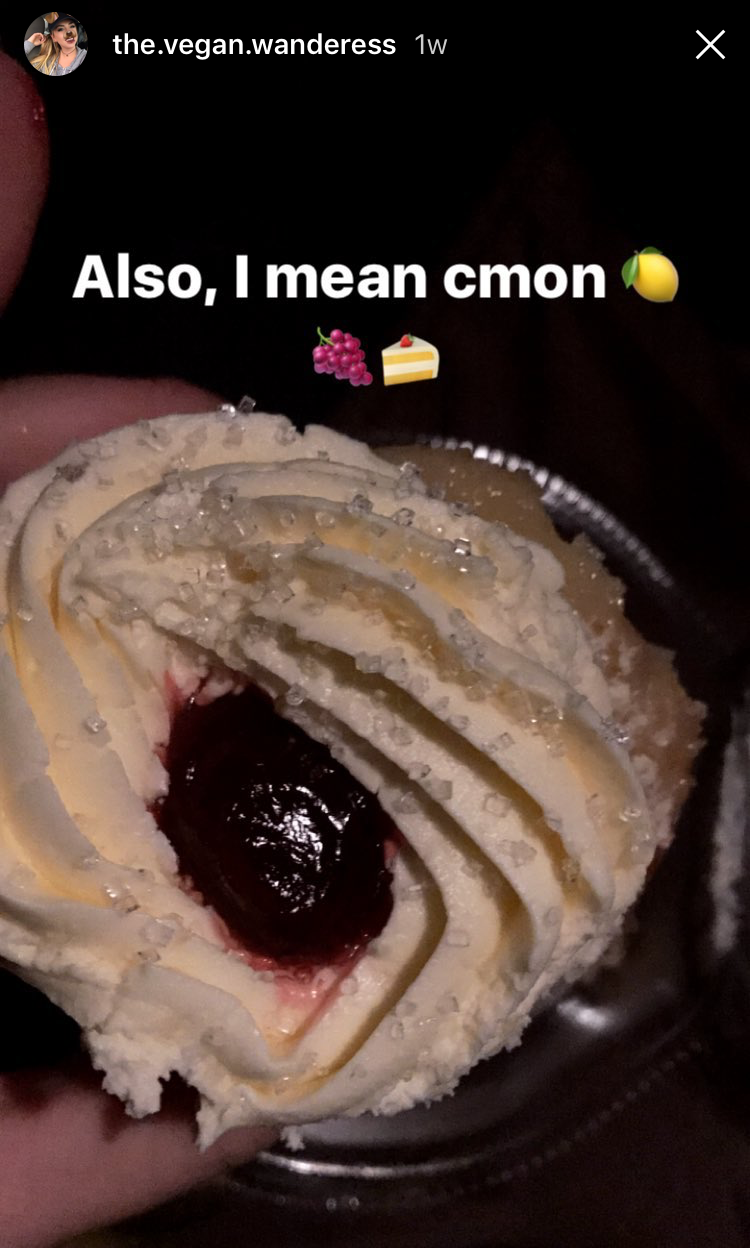 If you aren't following me on Instagram you should but, here is what you missed from my Instagram story that day. 1. Sweet & Spicy fried cauliflower and broccli by Vegan Love Chef Poreyah. 2. The Bearded Vegans gearing up for their live podcast 3. Vegan white chocolate peanut butter cups by Hippie Cakes 4. Lemon & Raspberry vegan cupcake by Hardcore Sweet (Cupcake Wars Winners!)
Business Cards
Here are the business cards of the businesses I have mentioned above as well as some honorable mentions. Let me just say that the mac and cheese by Bunny Treats was to die for, and you should definitely try to link up with her at an event she is going to if you can. Also, I think my next CF & Vegan makeup purchase is going to be from Groovy Cat, she had some amazing subtle shimmery eyeshadows.
I hope you enjoyed this post, comment below what your favorite part was!
Wander often & wonder always,