What I ate as a Vegan in Italy
Hi friends I know it has been a while! I have been working so much this summer and just recently started having a day off every week. I am making sure to put more time aside for regular posts on the blog. I am aiming to share new content every other week.
I'll give you a hint, what I ate as a vegan in Italy consisted mostly of carbs, tomato, and gelato. However I did find some pretty amazing vegan items both in the grocery stores and out to eat. While in Italy my family and I visited Rome, Positano, Capri, Tuscany, Mt. Vesuvius, and Pompeii.
Disclaimer: Most of the restaurants we visited had menus that were limited in vegan options. Most places only offered a very small side salad that would not be fulfilling as a meal as it is meant to be a starter. Although I know some pastas and breads are made using egg this is something I chose to ignore. When eating out I ordered everything without cheese and without butter. Normally eat lots of fruits, vegetables, and carbs and I refuse to deprive my body of food. The grocery stores were plentiful in vegan options but as I was on vacation with my family we did go out to eat quite a bit. Veganism is not always a perfect science but all we can do is try our best every day to reduce animal suffering.
I hope you enjoy my photo diary of what I ate as a vegan in Italy!
Pizza
Most people will look at these pictures and say, "Don't you miss cheese?" The truth is, no, pizza is just as delicious to me with red sauce and plentiful vegetables. I loved how on our day trip of touring Mount Vesuvius and Pompeii the restaurant we visited put a smiley on our pizza with olives.
Pasta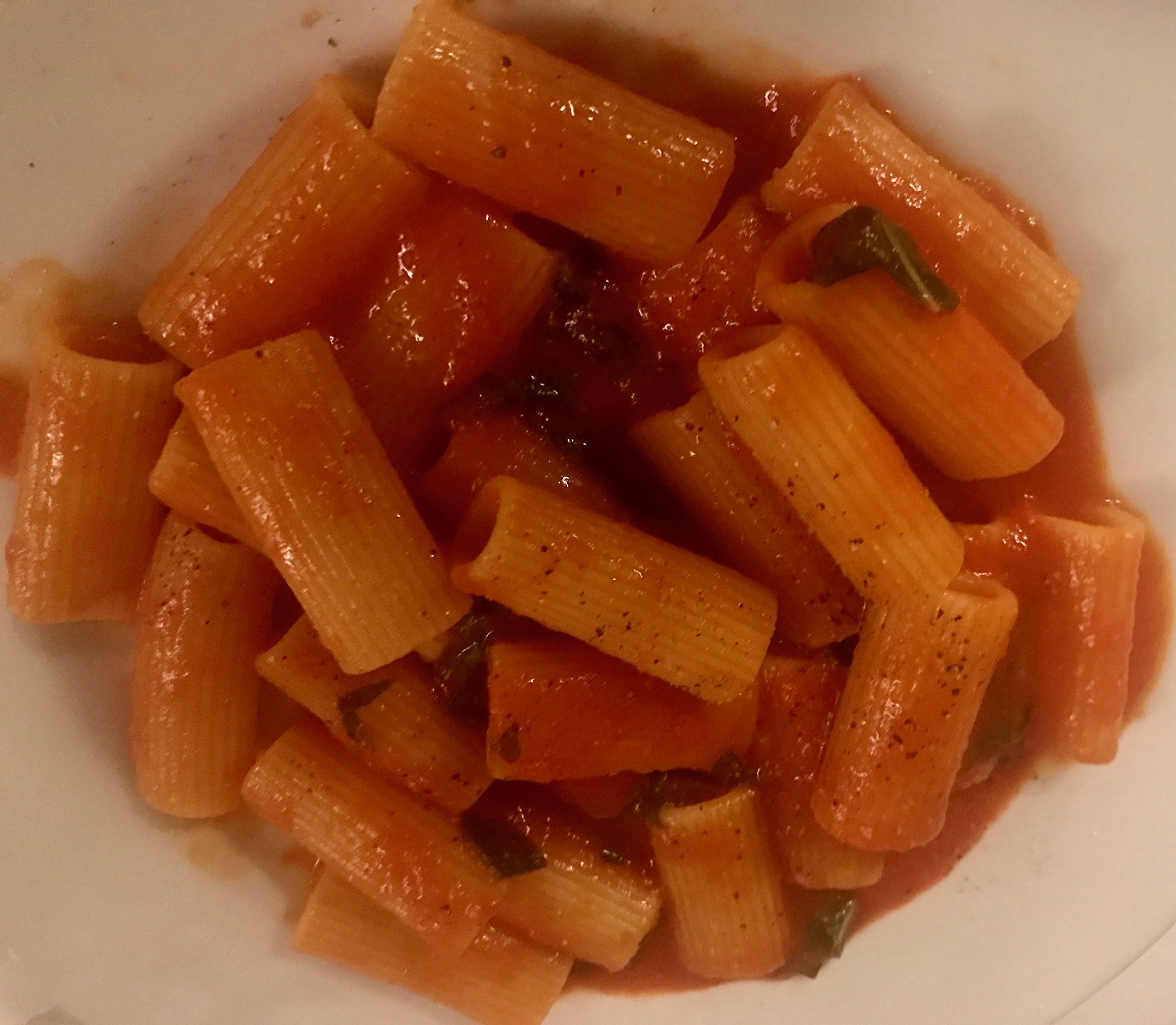 I fell in love with gnocchi in Italy! If you don't know, gnocchi is a ball shaped pasta made from potatoes. It is great served with red sauce and at a fine dinning restaurant we tried gnocchi with black truffle (second photo in), it was delicious! I also enjoyed many other pasta dishes with vegetables, oil, and red sauce.
Gelato & Ice Cream
At most gelaterias they have many dairy free gelato flavors. Usually the fruit flavors are dairy free. I was very pleased to find that the dark chocolate flavor at most gelaterias was also dairy free. This flavor was truly decadent and one of my favorite things that I enjoyed while on this trip. At every store that I went to the staff was knowledgeable about which flavors were vegan friendly.
Also, these vegan soy ice cream drumsticks by Cornetto were a great find! They were delicious and available in many convenience stores.
Bruschetta
Another combination of carbs and tomato, surprise! But hey I'm not complaining. In the last photo you can see a lovely vegan bruschetta board that was prepared for us at a wine tasting in Tuscany. Our wonderful tour guides at City Wonders were considerate of veganism and gave me this in place of the cheese and meat board that other tour-goers enjoyed.
Drink
Left to Right: 1. Delirium Tremens, a delicious Belgian pale ale 2. Aperol spritz, a drink commonly enjoyed during aperitivo (drinks and appetizers before dinner time), 3. A peach bellini in Positano 4. A soy latte which admittedly were difficult to find in most coffee shops i visited
Others
If you are in Positano you absolutely must eat at Casa E Bottega. They had plentiful vegan options including smoothies, soy lattes, and quite a few entrees (menu pictured). They are open for breakfast and lunch and I enjoyed their veggie sandwich not once but twice. Not to mention the interior was adorable and totally Instagramable. Also pictured are some variations on a roasted artichoke dish and some bean and noodle soup that tasted much better than it looks!
Grocery Finds
Last, but not least, some grocery finds! I found that Italian grocery stores were very great at having vegan labels on items. If you can find these black truffle potato chips they are a must try. I cannot even describe how good these were. Also pictured are some soy yogurts, kombucha, and spring rolls I ate for some snacking between lunch and dinner.
I hope you enjoyed my vegan Italian food photo diary.
Wonder often & wonder always,